This has been an interesting couple of days. If you missed the kerfuffle, a Destructoid writer used Twitter to say some mean things to Felicia Day, and was subsequently fired because that's unprofessional. Like any seasoned professional, I first heard of this because I was checking my work email late on a Saturday night while drunkenly watching Avatar. (The one with the big kitties and pterodactyls, not the Airbender show. I hate that I have to clarify that, that movie is the best thing ever.)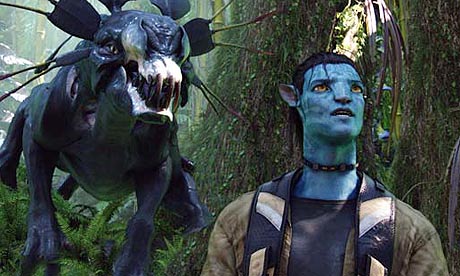 [I hope Avatar 2 is just three hours of James Cameron laughing in a pile of money, because he's earned it.]
This isn't about Ryan and Felicia, though. I don't want to fan the flames or ride the wave of what is just a dumb situation, but it did get me thinking that it could've just as easily been me on the chopping block. When I first started hosting The Destructoid Show, I said some things about Cliff Bleszinski that were a little bit on the mean side, and he responded accordingly on Twitter by saying he'd "added [me] to peopletopunchintheface.txt." 
When I first read that, I was terrified. I was also thrilled that Cliffy B had watched my show, but mostly just terrified that I'd be torn to shreds. It's a weird sensation when you softly tap the microphone that is the internet, and timidly mutter "Ahem, hello? Is this thing on?" to be met my a roaring hissing booming answer of "YES, IT IS ON, WE CAN HEAR YOU QUITE WELL."
Twitter's a weird place. I've been using it for several years now, and explaining to people what it's actually for it is quite difficult. I was telling my stepmom about it, and the most valid explanation I could conjure up was, "Well, it'll make you realize exactly how weird Jim Carrey actually is. He types like a sixteen year old girl and ends every tweet with a little emoticon of a man in a hat."
In reality, Twitter is a place where regular people can try to act like celebrities, and celebrities can try to act like regular people.
I was down at VidCon on Friday, which is the up-and-coming convention for YouTubers. YouTube celebrities show up, and are greeted by their screaming fans, and they interact with them (more or less) like actual human beings. This is quite different from how guests are treated at other fan events. For instance, at Comic-Con, someone like Jessica Alba gets escorted in by a cadre of Navy SEALs under the cover of night so none of the weirdo manbaby neckbeards try to smell her hair because she was on Dark Angel.
[This was the best picture I could find on GeoCities.]
At VidCon, I saw YouTube matriarch iJustine walking by the convention center with her assistant (or friend/companion of some sort) in a visible hurry. One of her fans ran after her to say hi, and instead of blowing her off, or having her sidekick play interference, Justine was just like "We've gotta be somewhere, but walk with me!" That's some progressive celebrity behavior right there.
I've probably said meanish things about iJustine in the past, because she's very cheerful and sometimes I'm not. Of course, she's also a celebrity. Celebrities the closest thing you'll find to fictional characters in the real world. They're like mythical beasts. You cannot hurt their feelings. But if you were like "Yo, that unicorn is gay-looking" and then an actual unicorn walked up to you looking all sad, you'd probably feel like a jerk. Also, the unicorn might gore you.
But yeah. Celebrities. Now we've got the internet, and regular people can say shit to celebrities, and celebrities can read it. Who thought that was a good idea, again?
I've said some shit about people. That's sort of a thing that I'm expected to do from time to time, since I'm a critic/pundit in some capacity [citation needed.] But more importantly, I'm a human being, and sometimes human beings talk shit. However, it's one thing to idly talk shit into thin air, and it's another thing to address that person directly.
While chatting over drinks with some people at VidCon, one guy mentioned that he worked with YouTubelebrity Toby Turner. At this, I mentioned, with the utmost grace and tact, that I'd been scolded for tweeting rude things about him while he hosted Ubisoft's hilariously awkward 2012 E3 press conference.
The gentleman I was speaking to clarified that Toby was basically one of his best friends, and that Toby's performance at the presser had been affected by a number of factors. I tried to clarify that I didn't really mean it when I said that I wished I could've gone back in time and encouraged Toby's parents to hit him more. At that point, this man's phone rang. He held it up, to show me the caller ID reading 'Toby Turner,' and answered "Hey Toby! Yeah, just talking to some guy who hates you."
Ughhhh. Sometimes, I wish I could turn into an invisible ghost made out of nothingness.
Shit's gonna be really awkward if I ever meet YouTube robber-baron Ray William Johnson, and he somehow is aware of the time that I said I wanted to "paint my house with his blood." Ray, I don't actually want to paint my house with your blood. I'm just not a fan of your videos and I listen to too much Samhain sometimes.
[I think I'm gonna attach this in the signature for my work email and see how long before they make me change it.]
I'm not a celebrity, but I almost have fourteen thousand twitter followers, and that's a lot of people reading what I say. I'm expected to behave with a certain level of professionalism, and I try to do my best. But that's where the internet's tricky. I'm in my underpants on a Sunday afternoon right now, why the hell should I be professional right now?
Someone from my workplace will probably read this, and furrow their brow a few times, but they'll probably let out a sigh of relief that I didn't start spewing racial slurs and top secret information like some sort of Wikileaks Michael Richards.
I think the trick to the internet is to not treat it like a public bathroom stall where you can write hateful graffiti and piss on the toilet seat because nobody's looking. But it also shouldn't be treated like a strict workplace where jeans are only allowed on Friday. Ten years ago, the internet was the Foot Clan hideout from the first Ninja Turtles movie; free cigarettes and arcade games, half-pipes everywhere. Now it's more like your friend's graduation party; you can have a beer or two, but his aunt and uncle are there, so no kegstands, bro.
Professional conduct is great, but I think human conduct should take priority. Some of the shit I see on here, it's like everyone forgot everything they learned in high school. Go watch Mean Girls, guys.
[Off-camera: "You go, Glen Coco!"]
The basic rule for the internet should be the same as the real world: don't be a jerk. Do no harm. If you do some harm, own that shit. And if you're gonna say mean shit to a celebrity on Twitter, say it to @garfield, because he's a goddamn fictional cartoon cat. And by all rights, he should be dead by now.
Fat pile of shit lasagna-eating motherfucker. The hell do you know about Mondays, Garfield? You're a goddamn cat, you don't have a job besides licking your butthole in the middle of the living room and throwing up on things.
(Please don't fire me, anyone.)